Closed Easter, Thanksgiving Day, and Christmas Day
20610 Tamiami Trail East
Naples, Fl 34114
Rev up the engine and get ready to explore the Florida Everglades aboard Corey Billie's Airboat Rides! The pristine beauty of the Everglades is yours to behold.
EVERGLADES AIRBOAT TOURS
WITH COREY BILLIE'S
Climb aboard our well maintained and state of the art airboats for a one of a kind Everglades airboat tour experience. Our guides are native Floridians who will take you deep into our 200-acre preserve for a tour that's one part education and two parts fun. Prepare yourself for exotic tropical wildlife and lush plants as the Florida Everglades spreads out before you.
During your Everglades day tour, you'll glide effortlessly through waterways and marshlands, down paths, and around ponds. Be sure to keep a lookout for alligators!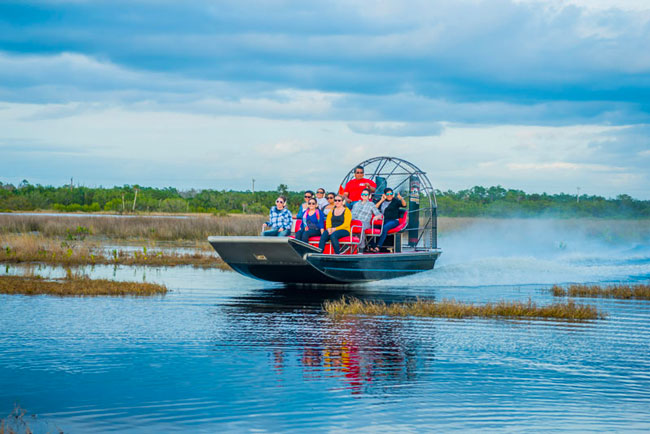 RESERVATIONS ARE HIGHLY RECOMMENDED DURING SEASON (DECEMBER – APRIL)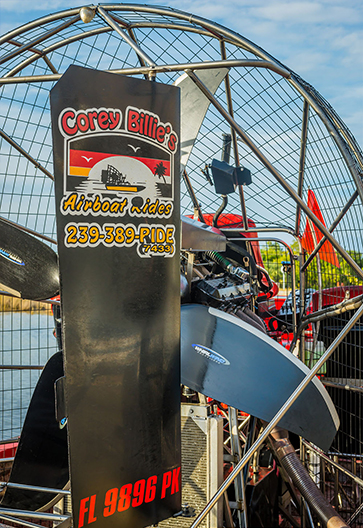 COREY BILLIE'S
EVERGLADES AIRBOAT TOURS
Corey Billie's is committed to giving people a genuinely fun airboat ride experience with Native Guides and knowledgeable locals, and a professionally run raw everglades adventure. We guarantee a fun, educational, one of a kind experience.
SURPRISE SOMEONE WITH A GIFT OF A LIFETIME.
Closed Easter, Thanksgiving Day, and Christmas Day
20610 Tamiami Trail East
Naples, Fl 34114
- allietaylor07 USA, Columbus, Mississippi
Our ride was on a cool day but jackets were provided. I thought that was very nice! We had an excellent driver! He told terrific stories and answered any questions we had. The ride was fun and we saw several gators! After the ride, we were offered to hold small gators which was really fun. I would definitely recommend this stop to anyone!
- trailsendmn USA, Buyck, Minnesota
Over the past 25 years, I have taken MANY airboat tours and Corey Billy's was the best experience I have ever had. My guests couldn't quit talking about it. Lebo was our driver and got us up close and personal with the gators and wildlife. He took the time to educate us on the history of the Everglades with a great twist from his good sense of humor. I would recommend this tour to everyone!
- John W USA, Omaha, Nebraska
My wife and I just happened upon Corey Billies while we were driving around the site seeing while we were in South Florida on our honeymoon. We were able to get on a boat within 20 minutes. Captain Dennis gave us a bucket list item to remember! Was well worth it!
- Saadia M USA, Burleson, Texas
It was a calm and sunny day... We zoomed across the water at times, meandered through shaded alleys, and explored the still waters. We saw alligators float up and check us out... Amazing! Experiencing the swamp as a guest is a thrill!
- Marcus L USA
Fun airboat ride, friendly staff, helped find a ride for a party of 8 even though we hadn't booked. Got to hold a baby alligator.
- 94shaneh2015 USA, Moorhead, Minnesota
We had a great experience and a very informative captain. We Saw some good size gators and some beautiful wildlife. I would highly recommend Corey Billies airboat rides to anyone contemplating the experience.