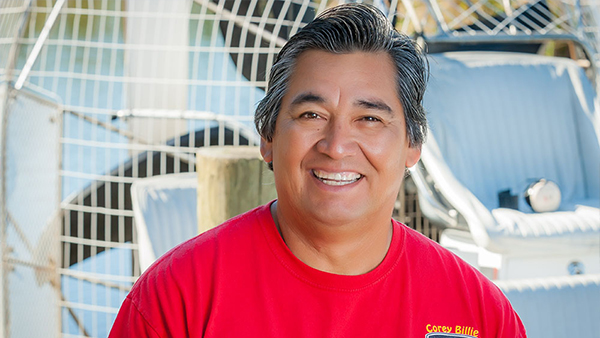 Who better to know and appreciate the Everglades than a true native Seminole? Raised in a traditional Seminole camp in Ochopee, Florida, Corey fondly recalls his childhood: gigging for fish in the canals alongside US41, chopping firewood for his family's village, watching his mother and grandmother sew traditional clothing and cook traditional meals over an open fire, and learning his heritage and native language from his ancestors.
Born in 1961, Corey has seen first-hand the transformation to Naples and surrounding Everglades as he and his relatives continually adapt to the changes over the years.
In 2008 he decided to pursue a lifelong dream to provide airboat tours of the Florida Everglades to entertain and educate people on the importance of preserving this beautiful and fragile land. His native American heritage gives him a unique understanding of the Everglades, his commitment to its preservation is a core principle at Corey Billie's Airboat Rides.
ABOUT OUR 200 ACRE EVERGLADES PRESERVE
Feel like a native Floridian yourself as you glide through the scenic waterways of our 200-acre preserve in one of America's last natural treasures, the Everglades. Enjoy the natural beauty that our 200-acre property located in the heart of the Everglades is able to offer. You're far away from the outside world while safely aboard Corey Billie's Airboat Rides. Our property is surrounded by Collier Seminole State Park, National Wildlife Refuge and Panther Preserve.
Based on both the time of season, and a little bit of luck you may see: